Archbishop Gomez has written two pastoral letters while Archbishop of Los Angeles: "Witness to the New World of Faith," and "For Greater Things you were Born." In his inaugural pastoral letter, "Witness to the New World of Faith," Archbishop Gomez set out five pastoral priorities for the family of God in Los Angeles, accompanied by a study guide. Below also find his reflection on what these priorities mean to him.

Education in the Faith
The goal of our Catholic schools and religious education programs is to help our people to know Jesus Christ and to know God's beautiful plan for our lives and for our world.
In our culture in this time, perhaps the most valuable thing Catholic education has to offer is the "Catholic vision" of life.
We are struggling in our culture to find the true meaning of life. What is happiness and what is success? What should we value? How do we define these things and how do we achieve them? There are so many false promises and crooked paths that are being offered to our young people.
So many of the problems in our homes and in our society can be traced back to the fact that we no longer have a clear idea of what it means to be a human person. The question from the Psalms is the question of our times: "What is man?"
The Catholic vision gives us the right answer and shows us the right path for our lives. Jesus showed us that we are creatures of great dignity, made in the image of God, redeemed by Jesus Christ, born for greater things — for beauty and goodness, for love and truth.
Our faith should make all the difference in our lives. And that should be the aim of all our religious education and catechesis — to inspire people to want to know their faith better so that they can live it more fully — with greater love and devotion.

Promoting Vocations
Every life is a calling, a vocation. We would not be here, we would not have been born, unless God called us into existence. God calls us into being from his very heart. And he calls us into being for a reason.
Jesus calls each of us by name and he calls each of us to conversion. He calls us to live — not for ourselves, but to glorify God and to serve our brothers and sisters.
Following Jesus means listening to his voice and his example. He is like a bright light who walks before us in the darkness. Jesus wants to draw everything in our ordinary lives into the light of his divine life.
Each of us is called to radiate his divine light in a unique way. Your life belongs to him, just as my life belongs to him. But every life is different and what Christ is calling you to do in this life — he is asking this of you, specifically. He is asking something specific of me, too. This is true for everyone.
Some are chosen by Jesus for a special calling, to conform their lives more closely to his image of Jesus. Some he chooses for his priesthood. Some he chooses to follow him in one of the many forms of religious and consecrated life in the Church.
So we have to listen for the voice of Christ and we have to respond to his call with all our hearts and all our strength.
A vocation always has a context and that context is always the Church. So our task in the Church — at every level — is to welcome and accompany people and to open their hearts to know God's calling in their lives.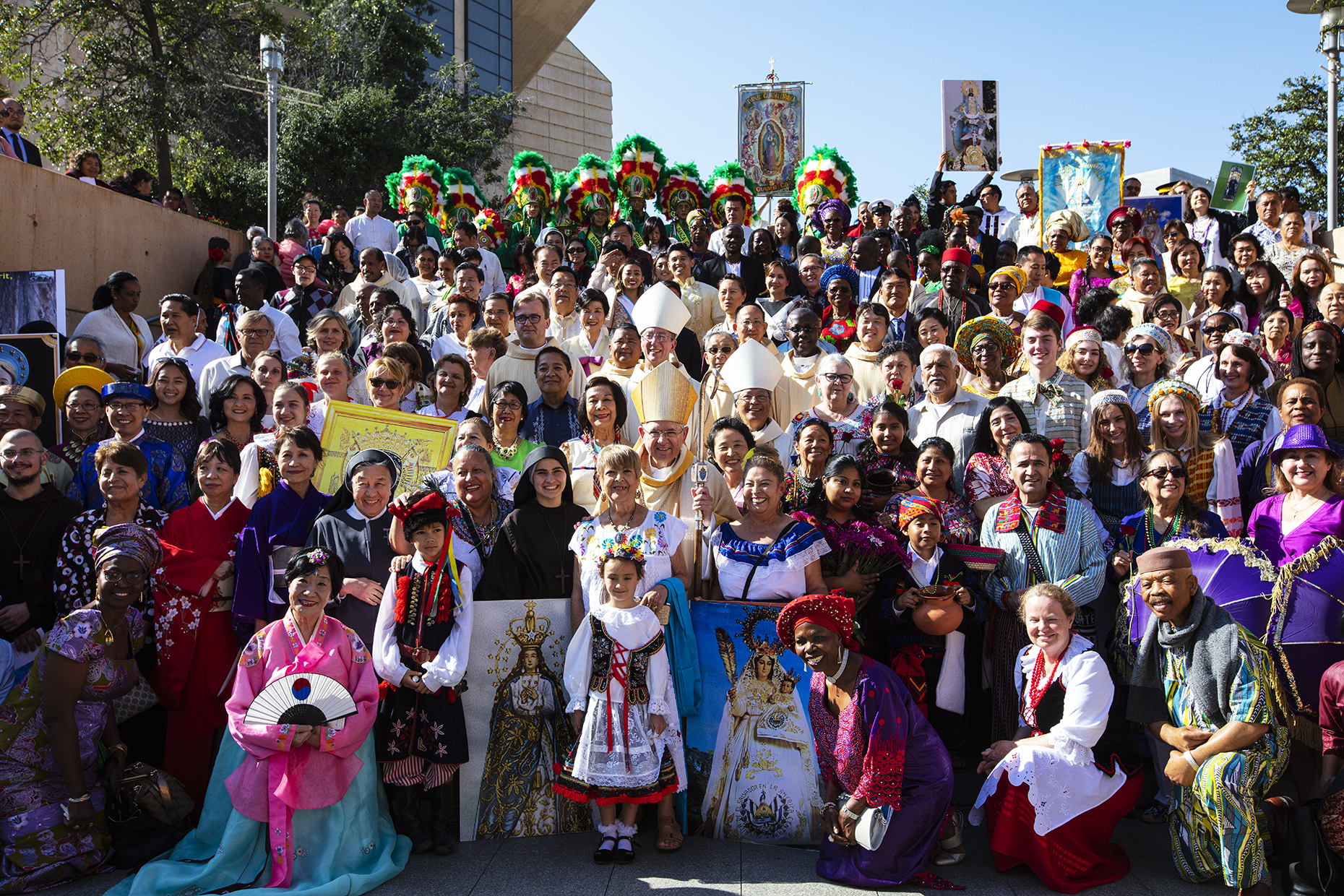 Fostering Cultural Diversity and Catholic Identity
The word "catholic," as we know, means "universal" or literally, "embracing the whole universe."
Jesus came as a "Son of David." That is, he came as a child of the Jewish people. But at the same time, he came as the "Son of Man," as a child of all humanity.
His coming this way is a sign of his Church and his Kingdom. And it is a sign for our own identity as Catholics. We are all children of some people or another. We are Filipinos or Salvadorans or Mexicans or Irish. But no matter where we come from, in Jesus Christ we are made children of God and brothers and sisters as one family in his Catholic Church.
Jesus gave to his Church the mission to proclaim this good news to everyone and to make this beautiful vision of God a reality in our world — beginning in every human heart.
We are called to break down every barrier that keeps us from loving one another as brothers and sisters, whether it comes from our pride or racism or fear.
We can't stay "stuck" in our own communities. We can't look at ourselves only as "Filipino Catholics" or "Hispanic Catholics" or Catholics from this or that neighborhood community. Our ethnic and cultural identities are important to who we are and who God wants us to be. But our identity in faith calls us to be much more than what we are by blood.
To be Catholic means understanding ourselves as sons and daughters — not only of our earthly parents, but of God. Our Catholic faith requires us to reach out beyond our boundaries. Beyond our own backgrounds and our own customary ways of doing things.
That's what makes our Catholic Church so beautiful. We all have so much to share with our brothers and sisters and so much we can learn from them.

Building a Culture of Life
The Gospel of Jesus Christ is the most radical doctrine in the history of ideas. If the world believed what Jesus proclaimed — that God is our Father and we are all brothers and sisters created in his image with God-given dignity and a transcendent destiny — every society could be transformed over night.
The Catholic vision is spiritual not political. Catholics belong first of all to the "city of God." But we have a duty to build up the "city of man," to correct injustices and seek a world that reflects God's desires for his children — what Jesus called the Kingdom of God and the apostles called the new heavens and new earth.
The motive and measure in everything we do is our concern to promote the flourishing of the human person. Our principles drive us to work for justice and the common good, to protect the vulnerable and lift up the weak, to promote freedom and human dignity, and to prefer remedies that are personal, local and small-scale.
In America and abroad, the people of our globalized society seem to tolerate a growing list of injustices and indignities. To name just a few: widespread abortion; the "quiet" euthanasia of the old and sick; birth control policies targeting the poor and "unfit"; racial discrimination; a widening gap between poor and rich; pollution of the environment, especially in poor and minority communities; pornography and drug addiction; the death penalty and scandalous conditions in our prisons; the erosion of religious liberty; a broken immigration system that breaks up families and leaves a permanent underclass living in the shadows of our prosperity.
The Church's social teaching "speaks" to all of these issues. The Compendium of the Social Doctrine of the Church, an essential resource, is nearly 500 pages long.
But among the evils and injustices in American life in 2016, abortion and euthanasia are different and stand alone. Each is a direct, personal attack on innocent and vulnerable human life.
The Church must continue to insist that the fundamental injustice and violence in our society is the direct killing of those who are not yet born through abortion and those who are sick and at the end of their lives through euthanasia and assisted suicide. In this culture, the Church must insist that abortion and euthanasia are grave and intrinsic evils — evils that are corrosive and corrupting, evils that are at the heart of other social injustices.
Abortion and euthanasia are "fundamental" social issues because if the child in the womb has no right to be born, if the sick and the old have no right to be taken care of, then there is no solid foundation to defend anyone's human rights, and no foundation for peace and justice in society.
How can we claim to speak for the marginalized and disenfranchised, if we are allowing millions of innocent children to be killed each year in the womb? If we cannot justify caring for the weakest and most innocent of God's creatures, how can we call our society to resist the excesses of nationalism and militarism or confront global poverty or protect our common home in creation?
The Church will always remain at the center of this great struggle for the right to life in our time. We are called to be a voice for those who have no voice.
For God, every life is sacred and beautiful and filled with possibility — a life he chose to create, a treasure that is precious. So our vision, too, must be whole and never partial. Respect for life means there are no exceptions to our love. Our faith calls us to be people who reflect the tenderness of God and his compassion for all his creation.

Strengthening Marriages and Families
Marriage and family are at the heart of God's plan for creation and for every one of our lives.
In the first pages of the Bible's first book, Genesis, we read about the marriage of Adam and Eve when the world was created. In the last pages of the Bible's last book, Revelation, we read about the "new heavens and new earth" and the "wedding feast" of Jesus Christ and his Church.
Jesus was born from a mother's womb and nurtured and raised in a holy family with his mother Mary and Joseph, her spouse. He performed his first "sign" at a wedding in Cana.
And Jesus gave his Church the mission of completing God's family plan for history — by proclaiming the good news that God is our Father and inviting men and women of all nations to live as one family of God in his Church.
The family is also the foundation that every society is made from and the natural bond that holds every society together.
We know that families face many challenges today. Many are struggling. Many are burdened by poverty, violence, sickness and other difficulties. Many families are hurting and broken.
There is widespread confusion over the meaning of marriage and family and our obligations to children in our society. Our society's growing secularism and emphasis on individualism and a consumer lifestyle are making it harder for people to make commitments and form lasting relationships. More and more in our culture, family is not valued or is taken for granted.
We need to think not only about the challenges we face. Those challenges are real and we must confront them. But the key to true renewal is for us to rediscover the natural beauty and joyful simplicity of marriage and family in God's plan for our lives and our society.
In God's creation, there is something unique — something beautiful and sacred — about the relationship between man and woman in marriage. Their union in love as husband and wife creates new life, a new generation of human society.
The Church is called to proclaim these truths to the world in all their fullness and in all their beauty.
We are called to do everything that we can to support those couples and families who are trying to live these truths — to be "holy spouses" and "holy families." The Church is also called to reach out with tenderness to those who are having trouble understanding and living these truths.
We need to proclaim the truth that in God's plan marriage is a sacrament — a living sign of the reality of God's love for every person. We also need to proclaim the truth that marriage is a vocation of love — a calling that God gives to husbands and wives to bear witness to his love and to build his Kingdom, the family of God on earth.